Precision CNC Turning Machining Services
Advantages of CNC Turning over Screw Machines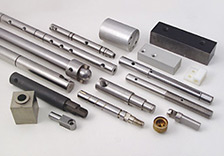 ( Click image to enlarge )
CNC lathes use standard turning tools to generate profiles on the outside of a part and boring tools to finish the inside of a part. The machine is programmed to move the cutting tools as needed to generate the desired part shape. These programs are generated either on the machine control or on an off line CAD/CAM system. This combination allows the machine operator to create virtually any shape simply by changing the machine program or a few tools. Since CNC lathes use general purpose tools, set-up time is faster and startup tooling costs are minimal. In addition CNC lathes have the potential to run larger diameter and longer parts than a screw machine. And most importantly CNC lathes are more accurate and maintain better surface finishes. CNC lathes are capable of axis repeatability of within .00015 and are capable of holding part tolerances of .0005.
So why do we need screw machines?
Screw machines are faster. Since CNC lathes use single point tools to "whittle" out the part shape it can sometimes be time consuming. Whereas screw machine can have multiple tools in the cut at the same time. However the increased production must be balanced against the increased set up and tooling costs.
If your part is too large for a screw machine, or if the tolerance are too close, or the lot size is too small then a CNC lathe is the best option. But if it is feasible to run your part on a screw machine, in most cases it will cost less. We do this evaluation on every parts we quote to ensure that we are providing our customer with the best part at the best price.
Our CNC Turning department consists of a variety of two and four axis turning centers complete with hydrostatic bar feeds and sub spindles. We use a DNC program storage system to maintain our part programs. This guarantees consistent part geometry and faster set ups in subsequent production runs. In addition we have several CNC lathes with "gang" style turrets. These machines excel at running small diameter chucker type work with fast cycle times.
Our customer service team will work closely with you to establish an ordering arrangement that is most beneficial to you. We accept blanket orders, as well as supporting Kanban and just-in-time delivery systems.
To learn more about our CNC turning services, please review the table below, or contact us directly.
Past Projects
CNC Turning Machining Capabilities
Machining Processes

Turning:

Contour Turning
Form Turning
Taper Turning

Straight Turning
Facing
Grooving


Threading:

External Single Point Threading
Internal Single Point Threading

Taper Threading
Tapping


Internal Operations:

Drilling
Reaming
Boring
Recessing
Trepanning

Face Grooving
Counter boring
Countersinking



Knurling
Capacity

.062" Minimum Diameter
.062" Minimum Length

6" Maximum Diameter
24" Maximum Length
Production Volume

Low Volume
Medium Volume

High Volume
Prototype Leading to Production
Tolerance

Straightness: +/- .0003"
Concentricity .0005" TIR

Diameter +/- .0003"
Length + /- .0005"
Finish

20 RMS
Lead Time

Per Customer Requirement
Equipment Capabilities

CNC Control Capabilities
Hydrostatic Bar Feeding
Sub Spindles
Materials (Metals)

Alloy Steels (4130, 4140, 4150, 8620, 8650)
Aluminum (2011, 2024, 6061)
Brass
Bronze Alloys
Carbon Steel (1117, 1144, 12L14, 1215, 1018, 1040, 1045)
Copper
Stainless Steel (303, 304, 316, 321, 416, 420, 440C, 17-4)
Tool Steel (A2, M2, D2, S7)
Castings
Forgings
Materials (Plastic Polymers)

ABS (Acrylonitrile Butadiene Styrene)
Acetyl
Acrylic
Delrin
Fiberglass Reinforced Plastics
Nylon
Phenolic
Polyamide-Imide

Polycarbonate
Polyetheretherketone (PEEK)
Polyetherimide
Polypropylene
Polystyrene
PVC (Polyvinyl Chloride
PTFE
Inspection

Per Customer Specifications
Per Ohio Metal Products Standards
Testing

Per Customer Specifications
Documentation

First Article
Material Certifications
Additional Information
Industries Served

Appliance
Automotive
Commercial Food Processing Equipment
Electrical
Fixture Components
Government

Industrial Fastening Equipment
Medical
Military
Robotics
Tooling
Intended Applications

Ball Plungers
Bolts
Collars
Dowel Pins
Fasteners
Guides
Handles
Hubs
Industrial Equipment
Knobs
Machine Components

Punch Blanks
Pulleys
Pins
Screws
Shafts
Sleeves
Spacers
Standoffs
Studs
Vents
Industry Standards Met

AISI
ANSI
ASME
ASTM

AMS
UNS
SAE
Mil