Precision High Speed Broaching Services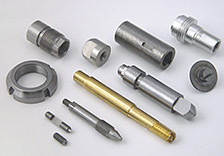 ( Click image to enlarge )
To complement our secondary machining capabilities we have several High Speed Broaching machines. High Speed Broaches use a flat blade type cutter to produce flats or slots on a work piece. By combining this technology with an indexing fixture we can rapidly generate hexagons, squares, rectangles and a variety of shapes in almost any material. This process is particularly effective on low carbon steels and cold headed parts where milling tends to cause burrs to form on the work piece.
If you are presently using a milling machine to generate wrench flats, screwdriver slots or other shapes on your product, give Ohio Metal Products the opportunity to quote broaching. Our High Speed Broaching Service can lower your manufacturing costs and give your company a competitive advantage.
Our customer service team will work closely with you to establish an ordering arrangement that is most beneficial to you. We accept blanket orders as well as supporting Kanban and just-in-time delivery systems.
To learn more about our High Speed Broaching Services, please review the table below, or contact us directly. We would be pleased to evaluate your part to determine if it is a good candidate for broaching.
Past Projects
High Speed Broaching Capabilities
Broaching Processes

High Speed
External
Internal

Shapes
Forms
Surfaces
Forms / Shapes

Square
Hexagon
Octagon
Rectangle

Slots
Special Forms
Wrench Flats
Capacity: High Speed Broach

.093" Minimum Diameter
.125" Minimum Length

1.250" Maximum Diameter
36" Maximum Length
Production Volume

Low Volume
Medium Volume

High Volume
Prototype Leading to Production
Tolerance

Width +/- .001"
Length +/- .001"
Finish

32 RMS
Lead Time

Per Customer Requirement
Equipment Capabilities

Index Fixture
Hydraulic Clamp Fixture
Materials (Metals)

Alloy Steels (4130, 4140, 4150, 8620, 8650)
Aluminum (2011, 2024, 6061)
Brass
Bronze Alloys
Carbon Steel (1117, 1144, 12L14, 1215, 1018, 1040, 1045)
Copper
Stainless Steel (303, 304, 316, 321, 416, 420, 440C, 17-4)
Tool Steel (A2, M2, D2, S7)
Castings
Forgings
Cold Headed
Materials (Plastic Polymers)

ABS (Acrylonitrile Butadiene Styrene)
Acetyl
Acrylic
Delrin
Fiberglass Reinforced Plastics
Nylon
Phenolic
Polyamide-Imide

Polycarbonate
Polyetheretherketone (PEEK)
Polyetherimide
Polypropylene
Polystyrene
PVC (Polyvinyl Chloride
PTFE
Inspection

Per Customer Specifications
Per Ohio Metal Products Standards
Testing

Per Customer Specifications
Documentation

First Article
Material Certifications
Additional Information
Industries Served

Appliance
Automotive
Commercial Food Processing Equipment
Electrical
Fixture Components
Government

Industrial Fastening Equipment
Medical
Military
Robotics
Tooling
Intended Applications

Brackets
Bolts
Collars
Safety Wire Pins
Fasteners
Handles
Industrial Equipment
Knobs
Machine Components

Pulleys
Screws
Shafts
Sleeves
Spacers
Standoffs
Studs
Vents
Industry Standards Met

AISI
ANSI
ASME
ASTM

AMS
UNS
SAE
Mil