High Volume, Tight Tolerance, Screw Machining of a Carbon Steel Shaft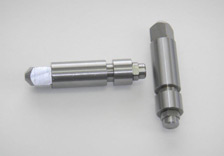 ( Click image to enlarge )
In the project highlighted here, a customer needed a custom designed tight tolerance shaft component part manufactured in high volume. Using the customer's designs, we developed a method for producing these shafts that involved generating a square shape in one broaching pass. Composed of 12L14 steel, we employed our multiple spindle screw machining, vertical broaching machine with indexing capability, and centerless grinding capabilities to create parts that measured .6215" in diameter and 2.833" in length, all to tolerances of ±.0005". We have produced up to 165,000 of these shafts per year.
For more information about this project, please see the following table or contact our company directly.
Specifications of this High Volume, Tight Tolerance, Screw Machined Carbon Steel Shaft Project
Product Name

Shaft
Product Description

Component Part
Capabilities Applied

Multiple Spindle Screw Machining
Vertical Broaching w/Indexing Fixture
Centerless Grinding, Thru Feed and Infeed
Part Diameter

.6215 in.
Length

2.833 in.
Tightest Tolerance

± .0005 in.
Feature

Square Generated by 1 Broaching Pass
Material Used

12L14 Steel
Quantity

165,000 per year
Machining Operations

Multiple Spindle Screw Machining
Broaching
Thru-Feed and In-Feed Grinding
Standards Met

Customer Supplied Design