CNC Turning, Milling, & Light Assembly of an Acetal Piston & Seat Assembly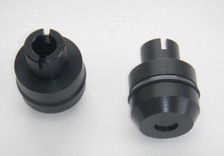 ( Click image to enlarge )

At Ohio Metal Products, we offer precision manufacturing as well as light assembly. With a reputation for quality that stretches back to 1909. Our ability to provide more than just machining was highlighted in this piston and seat assembly. The parts were machined from 1.5" diameter black acetal on our precision CNC turning and milling centers. After dimensional inspections, the parts were assembled with a purchased "cup" style seal located in a formed groove. The completed assembly featured dimensions of 1.494" in diameter and 1.988" in length, all machined to tolerances of ± .002". These pistons are now produced in numbers of 3200 pieces per year.

For more information about this project, please see the following table or feel free to contact us directly.
Specifications of this CNC Turned and Milled Piston & Seat Assembly Project
Product Name

Piston
Product Description

Piston and Seal Assembly
Capabilities Applied

CNC Turning
CNC Milling
Assembly
Part Diameter

1.494 in.
Length

1.988 in.
Tightest Tolerance

± .002 in.
Feature

Light Assembly
Material Used

1.500" Acetal, Black
Quantity

3,200 pieces per year
Machining Operations

CNC Turning Center
CNC Vertical Machining Center
Standards Met

Customer Supplied Design