Precision Screw Machining Services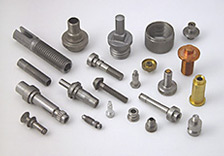 ( Click image to enlarge )
Highlighting our manufacturing capabilities is our precision screw machining service. Consisting of both cam driven and CNC controlled machines, our single and multiple spindle screw machines can provide our customers with high quality products in any production quantity. Producing screw machine parts has been the mainstay of our business since our beginning over a 100 years ago. With experience, innovation and technology we continue to produce close tolerance, quality parts to service a competitive market.
At Ohio Metal Products we've known for over a century that any screw machine shop can produce a precision part, but it takes dedication to deliver on time, every time.
Our customer service team will work closely with you to establish an ordering arrangement that is most beneficial to you. We accept blanket orders, as well as supporting Kanban and just-in-time delivery systems.
To learn more about our precision screw machining services, see the following table or contact us directly.
Past Projects
Screw Machining Capabilities
Machining Processes

External Operations:

Broaching
Cut-off
Chamfering
Face Groove
Forming
Grooving

Knurling
Roller Burnishing
Turning
Trepan
Thread Cutting
Thread Rolling


Internal Operations:

Boring
Broaching
Counter Sinking
Drilling
Deep Hole Drilling

Knurling
Reaming
Recessing
Tapping
Thread Form Tapping


Attachments:

Back Finishing
Cross Drilling
Deburring

Screw Slotting
Magazine Bar Feeds
Magazine Second Operation Loaders
CNC Single Spindle

.125 in. Minimum Diameter
.250 in. Minimum Length

1.625 in. Maximum Diameter
9 in. Maximum Length
Single Spindle Capacity

.078 in. Minimum Diameter
.010 in. Minimum Length

1.625 in. Maximum Diameter
36 in. Maximum Length
Multiple Spindle Capacity

.125 in. Minimum Diameter
.060 in. Minimum Length

1.625 in. Maximum Diameter
6 in. Maximum Length
Production Volume

Low Volume
Medium Volume

High Volume
Prototype Leading to Production
Single Spindle Tolerance

Diameter + / - .0005 in.
Length + / - .001 in.
Concentricity .001 TIR

Turned Finish 12L14 32 RMS
Burnished Finish 8 Ra
Multiple Spindle Tolerance

Diameter + / - .001 in.
Length + / - .003 in.
Concentricity .002 TIR

Turned Finish 12L14 32 RMS
Burnished Finish 8 Ra
Lead Time

Per Customer Requirement
Materials (Metals)

Alloy Steels (4130, 4140, 4150, 8620, 8650)
Aluminum (2011, 2024, 6061)
Brass
Bronze
Carbon Steel (1117, 1144, 12L14, 1215, 1018, 1040, 1045)
Copper
Stainless Steel (303, 304, 316, 321, 416, 420, 440C, 17-4)
Tool Steel (A2, M2, D2, S7)
Materials (Plastic Polymers)

ABS (Acrylonitrile Butadiene Styrene)
Acetyl
Acrylic
Delrin
Fiberglass Reinforced Plastics
Nylon
Phenolic

Polyamide-Imide
Polycarbonate
Polypropylene
Polystyrene
PVC (Polyvinyl Chloride)
PTFE
Inspection

Per Customer Specifications
Per Ohio Metal Products Standards
Testing

Per Customer Specifications
Documentation

First Article
Material Certifications
Additional Information
Industries Served

Appliance
Automotive
Commercial Food Processing
Electrical
Fixture Components
Government

Industrial Fastening Equipment
Medical
Military
Robotics
Tooling
Intended Applications

Ball Plungers
Bolts
Collars
Dowel Pins
Fasteners
Guides
Handles
Hubs
Industrial Equipment
Knobs
Machine Components

Punch Blanks
Pulleys
Pins
Screws
Shafts
Sleeves
Spacers
Standoffs
Studs
Vents
Industry Standards Met

AISI
ANSI
ASME
ASTM

AMS
UNS
SAE
MIL