Custom Centerless Grinding Services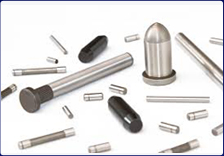 ( Click image to enlarge )
A valuable addition to our in house manufacturing capabilities is our precision centerless grinding department. With our centerless grinders we can provide our customers with finished precision ground parts while maintaining total control over quality and insure that our customers receive on time delivery.
Our precision centerless grinding department contains both through feed and infeed grinders. While the grinding principles for the two are the same, part geometry dictates which process to use. Through feed grinders are used for grinding straight, cylindrical type parts whereas infeed grinders are used to grind parts with steps or shoulders. Both grinding processes are capable of holding diametrical tolerances of .0004 and surface finishes of 8 RMS.
In addition, many of our customers who have their own blanking capabilities send their parts to Ohio Metal Products for grinding. Our centerless grinding customers receive precision ground parts, competitive pricing and quick turnaround.
If your part diameters require close tolerances and smooth finishes, contact our customer service team and see if you can benefit from our centerless grinding service.
To learn more about our Centerless Grinding Services, please review the table below, or contact us directly.
Past Projects
Centerless Grinding Capabilities
Grinding Processes

Centerless Grinding
Precision Grinding
Wet Grinding
Grinding Capabilities

Through Feed
In Feed
Capacity: Through Feed

.060" Minimum Diameter
.125" Minimum Length

1.500" Maximum Diameter
18" Maximum Length
Capacity: In Feed

.312" Minimum Diameter
.500" Minimum Length

1.125" Maximum Diameter
3.875" Maximum Length of Grind
Production Volume

Low Volume
Medium Volume

High Volume
Prototype Leading to Production
Tolerance

Diameters +/- .0002"
Length +/- .010" (In Feed)

Roundness +/- .0002"
Straightness +/- .0001 Per Inch
Finish

8 RMS
Lead Time

Per Customer Requirement
Materials (Metals)

Alloy Steels (4130, 4140, 4150, 8620, 8650)
Aluminum (2011, 2024, 6061)
Brass
Bronze Alloys
Carbon Steel (1117, 1144, 12L14, 1215, 1018, 1040, 1045)
Copper
Stainless Steel (303, 304, 316, 321, 416, 420, 440C, 17-4)
Tool Steel (A2, M2, D2, S7)
Cold Headed
Inspection

Per Customer Specifications
Per Ohio Metal Products Standards
Testing

Per Customer Specifications
Documentation

First Article
Material Certifications
Additional Information
Industries Served

Appliance
Automotive
Commercial Food Processing Equipment
Electrical
Fixture Components
Government

Industrial Fastening Equipment
Medical
Military
Robotics
Tooling
Intended Applications

Bolts
Collars
Fasteners
Handles
Industrial Equipment
Knobs
Machine Components
Piston Rods

Screws
Shafts
Sleeves
Slide Rods
Spacers
Standoffs
Studs
Industry Standards Met

AISI
ANSI
ASME
ASTM

AMS
UNS
SAE
Mil