Precision Machined Stainless Steel Bearing Shaft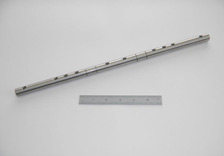 ( Click image to enlarge )
At Ohio Metal Products we specialize in the machining of tight tolerance components for a wide range of applications. In this project we were contacted to manufacture a number of high precision bearing shafts.
Using bearing shaft quality 303 stainless steel, we utilized our high speed drilling and tapping equipment to fabricate these parts according to a customer supplied design. This project required the use of a number of our machining capabilities, including our Brother Drilling and Tapping center and a single spindle screw machine with magazine bar feed. We completed 1000 of these bearing shafts which measured .6240" in diameter and 15.500" in length, and featured tightest tolerances of ± .001".
For more information about this drilling and tapping project, please see the following table or contact us directly.
Specifications of this Precision Machined Stainless Steel Bearing Shaft Project
Product Name

Bearing Shaft
Product Description

Shaft
Capabilities Applied

High Speed Drilling and Tapping
Part Diameter

.6240 in.
Length

15.500 in.
Tightest Tolerance

± .001 in.
Material Used

.6245"/.6235" Bearing Shaft Quality 303 Stainless Steel
Quantity

1,000 pieces
Machining Operations

Single Spindle Screw Machining
Magazine Bar Feed
Brother Drilling and Tapping Center
Standards Met

Customer Supplied Design