Precision CNC Turning of a Tool Steel Cleat Cutter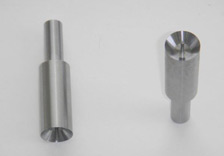 ( Click image to enlarge )
As another example of the wide range of materials we machine, this project produced from tool steel shows we can provide precision manufacturing services to a wide range of industries.
This cleat cutter, which is a tool blank with a pilot, was machined from M2 tool steel for its hardness and durability. Manufacturing required the raw stock to be turned on a CNC lathe and finished on a centerless grinding machine. When completed, each of the 300 parts we produced featured dimensions of .609" in diameter, 2.500" in length, and had a tightest tolerance of ± .001".
To learn more about this project, or the processes used to manufacture it, see the following information or contact us directly.
Specifications of this Precision CNC Turning of a Tool Steel Cleat Cutter Project
Product Name

Cleat Cutter
Product Description

Tool Blank with Pilot
Capabilities Applied

CNC Turning
Centerless Grinding
Part Diameter

.609 in.
Length

2.500 in.
Tightest Tolerance

± .001 in.
Material Used

M2 Tool Steel
Quantity

300 pieces
Machining Operations

CNC Turning Center
Thru-Feed Centerless Grinding
Standards Met

Customer Supplied Design