Precision CNC Vertical Milling Machining Services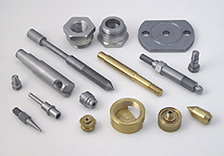 ( Click image to enlarge )
Our CNC Vertical Machining Department consists of both Vertical Machining Centers and CNC controlled drilling and tapping machines. While these machines are similar, their differences complement our manufacturing process.
Our Brother CNC drill and tap machines have extremely fast rapid rates and one of the quickest tool change times in the industry. These machines allow us to provide our customers with cost effective, high quality small parts that require drilling, tapping and light milling.
In contrast our Haas Vertical Machining Centers produce larger parts that require more aggressive machining. In addition our vertical machining centers are outfitted with a fourth axis which is used to generate flats, hexagons, squares, oil grooves and spirals.
Regardless of your lot size, our Vertical Machining Department can provide you with high quality, precision machined parts at an economical price.
Our customer service team will work closely with you to establish an ordering arrangement that is most beneficial to you. We accept blanket orders, as well as supporting Kanban and just-in-time delivery systems.
To learn more about our Vertical Machining Services, please review the table below, or contact us directly.
Past Projects
Vertical Milling Machining Capabilities
Machining Processes

Milling:

Contour Milling
End Milling
Face Milling

Keyway Milling
Pocket Milling


Threading:

Tapping
Thread Milling


Taper Thread Milling


Internal Operations:

Drilling
Reaming
Boring
Recessing

Face Grooving
Counter boring
Countersinking
Capacity: Drill and Tap Machine

.062 Minimum Width
.062 Minimum Length
.030 Minimum Height


6 Inch Maximum Width
12 Inch Maximum Length
4 Inch Maximum Height
Capacity: Vertical Machining Center

.250 Minimum Width
.250 Minimum Length
.125 Minimum Height

12 Inch Maximum Width
24 Inch Maximum Length
6 Inch Maximum Height
Production Volume

Low Volume
Medium Volume

High Volume
Prototype Leading to Production
Tolerance

Straightness: +/- .001"
Diameter +/- .001"
Length + /- .001"
Finish

20 RMS
Lead Time

Per Customer Requirement
Equipment Capabilities

CNC Control Capabilities
Fourth Axis
Materials (Metals)

Alloy Steels (4130, 4140, 4150, 8620, 8650)
Aluminum (2011, 2024, 6061)
Brass
Bronze Alloys
Carbon Steel (1117, 1144, 12L14, 1215, 1018, 1040, 1045)
Copper
Stainless Steel (303, 304, 316, 321, 416, 420, 440C, 17-4)
Tool Steel (A2, M2, D2, S7)
Castings
Forgings
Materials (Plastic Polymers)

ABS (Acrylonitrile Butadiene Styrene)
Acetyl
Acrylic
Delrin
Fiberglass Reinforced Plastics
Nylon
Phenolic
Polyamide-Imide

Polycarbonate
Polyetheretherketone (PEEK)
Polyetherimide
Polypropylene
Polystyrene
PVC (Polyvinyl Chloride
PTFE
Inspection

Per Customer Specifications
Per Ohio Metal Products Standards
Testing

Per Customer Specifications
Documentation

First Article
Material Certifications
Additional Information
Industries Served

Appliance
Automotive
Commercial Food Processing Equipment
Electrical
Fixture Components
Government

Industrial Fastening Equipment
Medical
Military
Robotics
Tooling
Intended Applications

Brackets
Bolts
Collars
Safety Wire Pins
Fasteners
Guides
Handles
Hubs
Industrial Equipment
Knobs


Machine Components
Pulleys
Screws
Shafts
Sleeves
Spacers
Standoffs
Studs
Vents
Industry Standards Met

AISI
ANSI
ASME
ASTM

AMS
UNS
SAE
Mil